Warning:
This tool or project is no longer maintained and kept available only for archival purposes. Since
GoodRelations
and
schema.org
have evolved significantly in the past years, the current status available on this page is unlikely to function as expected. We take no responsibility for any damage caused by the use of this outdated work, to the extent legally possible.
Due to a lack of resources, we are unable to provide support for this project outside of consulting projects or sponsored research. Please
contact us
if you can contribute resources to update and enhance these resources.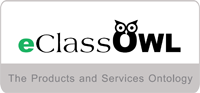 This is the archive of the eclassowl dicussion list
eClassOWL is an OWL ontology for describing the types and properties of products and services on the Semantic Web. eClassOWL is meant to be used in combination with the GoodRelations ontology for e-commerce, which covers the commercial aspects of offers and demand, e.g. prices, payment, or delivery options.
The eclassowl Archives
You can get more information about this list.